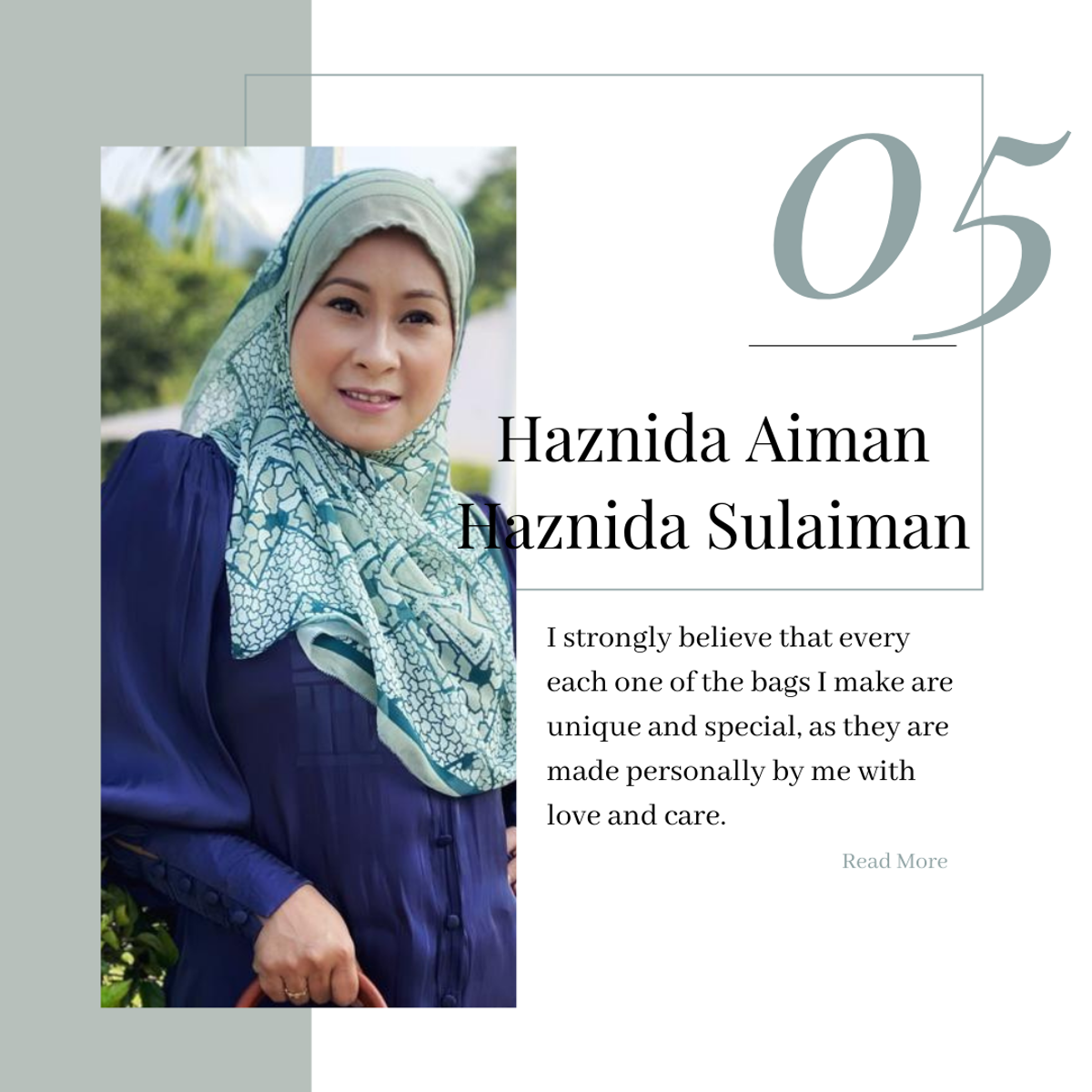 My name is Haznida Binti Sulaiman and I am married with 3 children and my husband is a government officer in the security field. I am from Kuala Lipis, Pahang but at present I am staying in Bentong, Pahang.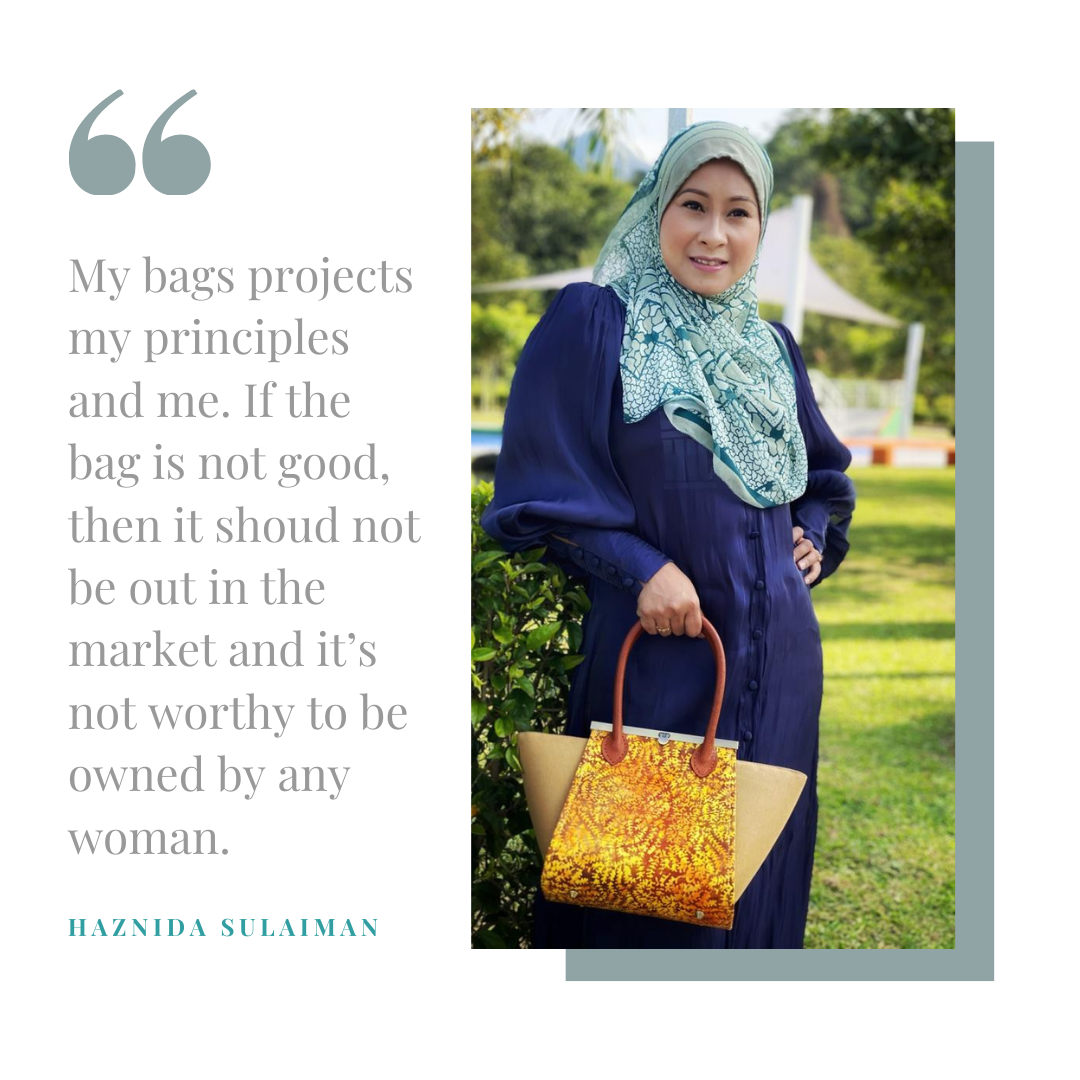 My late mother used to sew dresses to help support our family. I often helped her to do some stitichings and since then I had been interested in sewing. Sadly my mother passed away when I was about 17 years old and once I cleared my MCE examination I had to stop schooling and help to support my father and siblings. I got married in 2004 and was busy taking care of my son till I began to learn and sewed curtains part-time 2007 to get an extra income to assist my husband in our household expenditures as we had a second child by then.

In 2012 I began to sew scarves ( tudung ) as the market for curtains was down and it took a lot of space and time. Unfortunately, that did not last long as the market for scarves was competitive and it was very difficult to keep up to date with the market plus I was also sewing book covers and pencil cases and found it much more interesting and fun plus much easier to market at a much more reasonable and affordable price. There was also much more material dan designs available. I took online classes and also attended classes whenever possible and available in Kuala Lumpur and Selangor to further improve my knowledge and skills till I began sewing and making bags till now. As I do not have the capacity to get a proper workplace for now, therefore I do my work from home.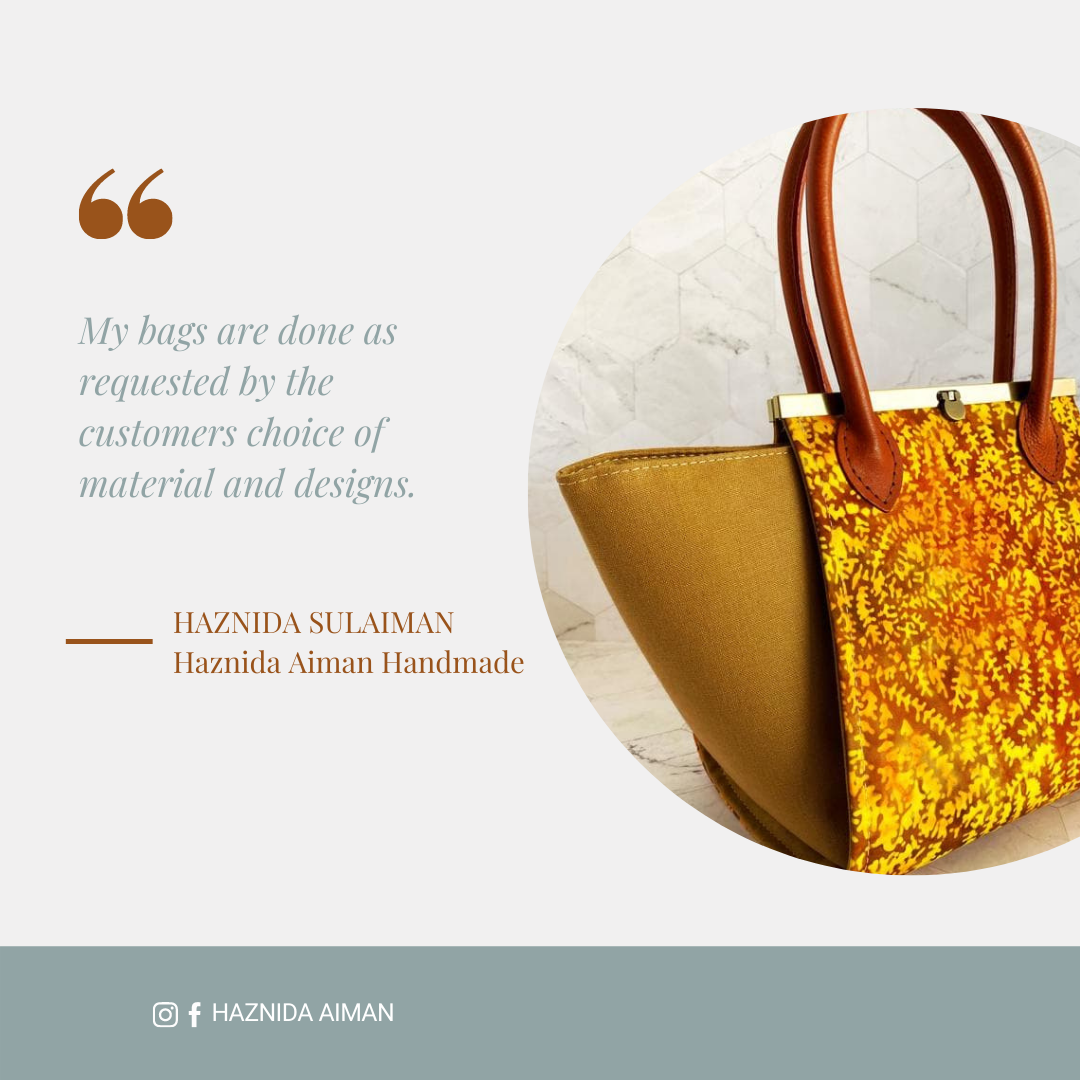 I strongly believe that every each one of the bags I make are unique and special, as they are made personally by me with love and care. So far, I have do my utmost best to ensure that each one of the bags I made are different and my customers can be rest assured that theirs are the only one in the market and exclusively theirs alone. My bags are done as requested by the customers choice of material and designs.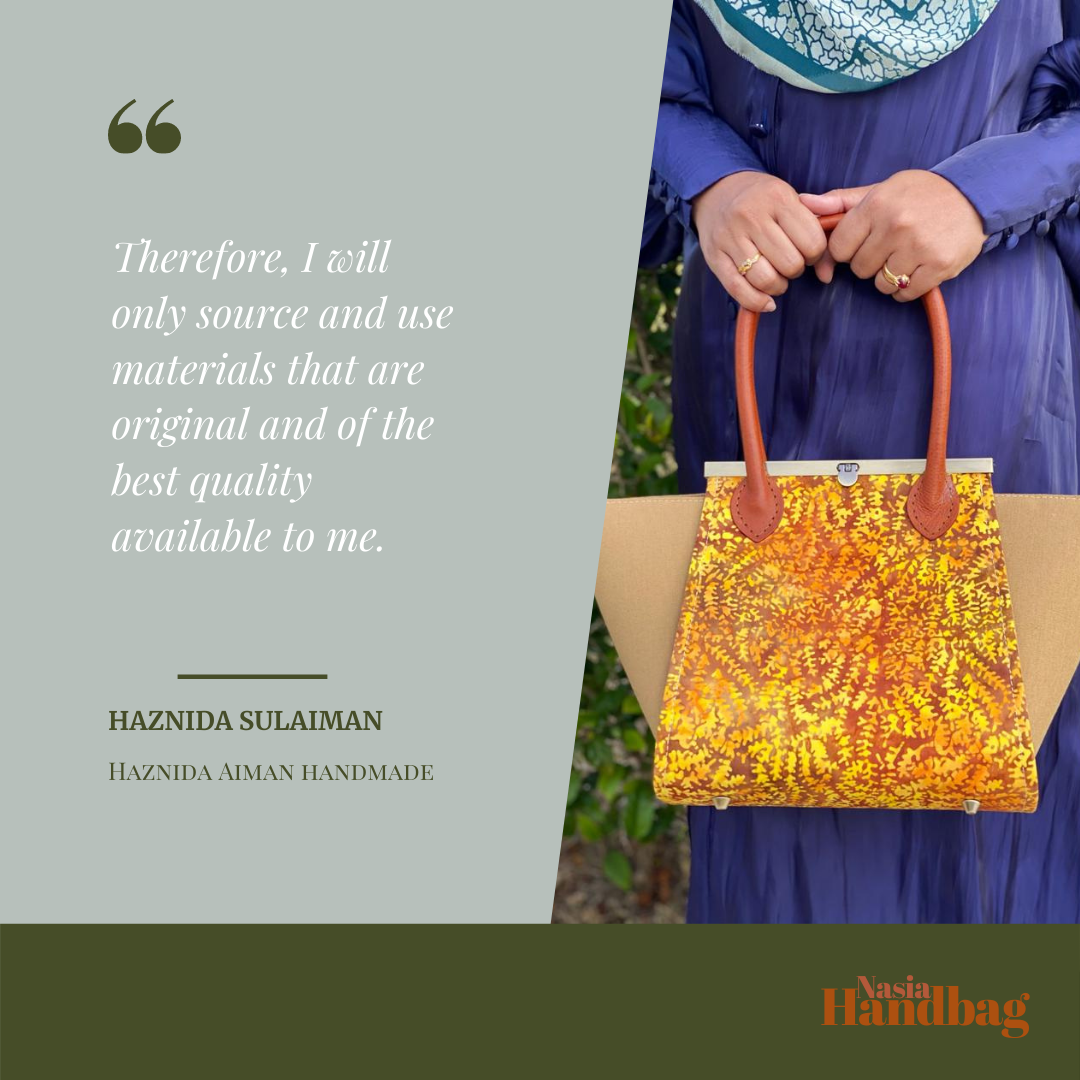 I consider myself a perfectionist and do my utmost best to guarantee that my customers get the best quality. I do not tolerate any flaws and I will not allow any of my bags to be sold or in the market if stitches, material, handwork and quality is not satisfactory to me. My bags projects my principles and me. If the bag is not good, then it shoud not be out in the market and it's not worthy to be owned by any woman. As the handbag projects the owner and it's maker. Therefore, I will only source and use materials that are original and of the best quality available to me. My customer will be informed as from where and how the materials for the bags that they purchased from me was acquired. I must be tranparent and commit to provide the best quality for the satisfaction of the customer.
I was very lucky as I was chosen and featured on a documentary programme "Majalah 3" , which was aired on channel TV3 Malaysia on the 15th of April 2019. At present, I am a bag design tester for "Bagstock Designs" and "Imazz Patterns" which market their bag patterns and designs online.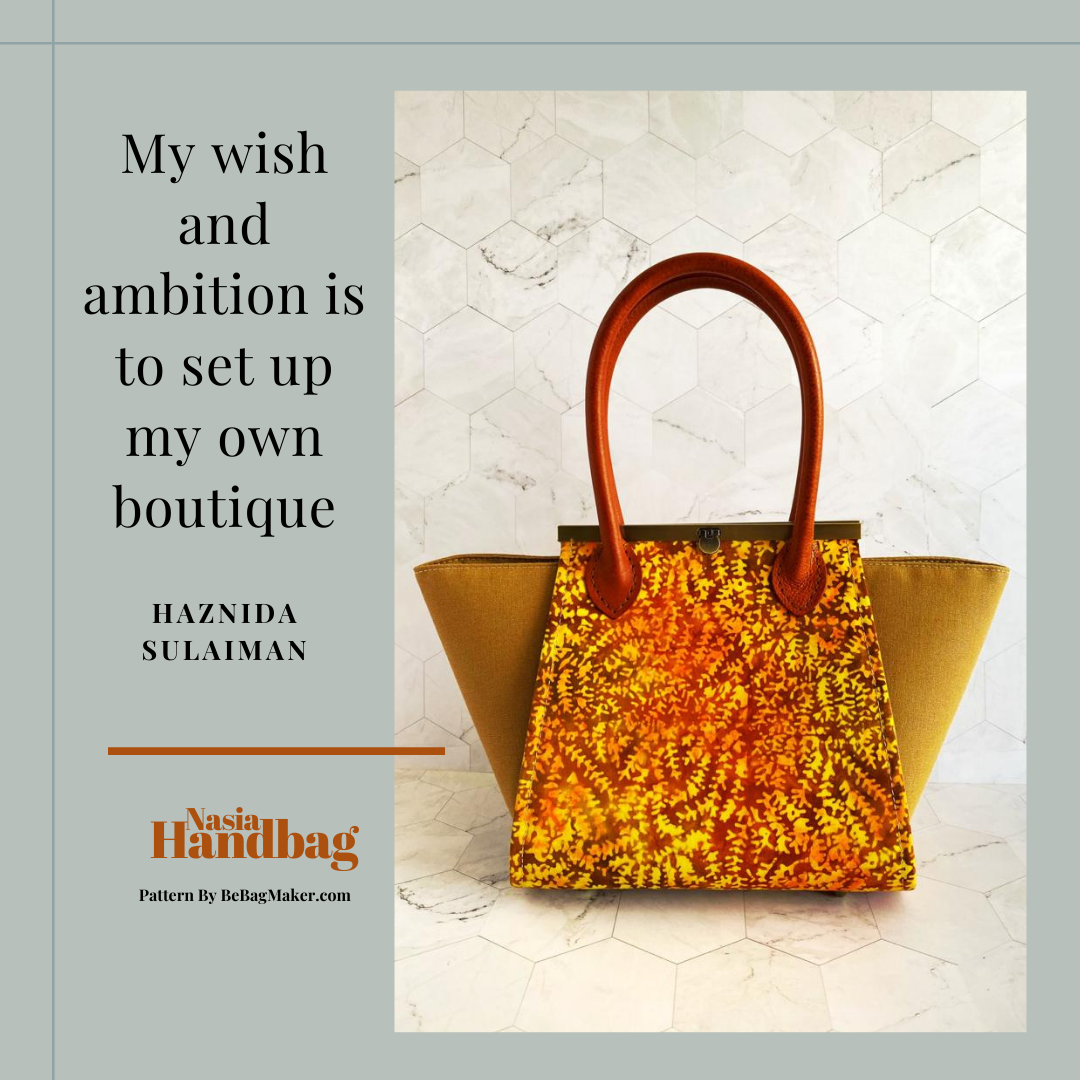 My wish and ambition is to set up my own boutique and to give my customers bags that are reasonable and affordable in price with value plus the exclusiveness and quality on par with the major and branded bags in the market. I've had the pleasure of passing my knowledge to a few interested colleagues and found so much satisfaction to see them sew and make the bags I taught them. Therefore, I earnestly also wish to have my own studio to pass on the little knowledge and skills that I have, in the hope that it will help further and educate others on the craft, uniqueness, beauty and care to make or own a custom and handcrafted bag.